Sidan uppdaterades senast 2009-07-08

SKooi Club Show 2008
The event of the year, the annual Swedish Kooikerhondje Club Show, my opinion though. The day after, itís a little bit sad, now itís almost a year until next time but what a wonderful day we had yesterday!!! The sun was shining and the temperature was perfect, all lovely dogs and a lot of nice people sharing the same passion in the breed, isnít that great? Together we spent many hours by the ringside, and the judge of the year, Jan Andringa from Holland showed a big attention to all the 71 participated kooikers, lovely, Thank you!
It was a really exiting day. Jan has a long experience in kookier breeding and I was so curious about the dogs he should choice. There were many nice dogs so it canít be an easy task. I realized that all the dogs behaved so well and it was so peaceful in the area, which is a sign of improvement of breeding as I see it. Jan treated all the dogs with full respect and helped the more insecure dogs to succeed, something I really appreciated. There was a hard competition, especially in the bitchesí classes.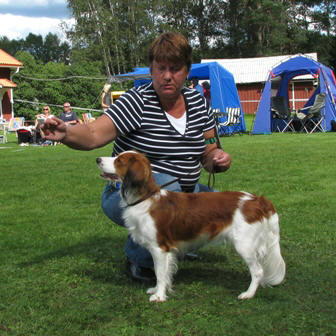 The first dogs entering the show from our kennel were Nelly and Freya in the intermediate class, 17 dogs attending! They both got first price and ck(certification quality) with excellent critics and Freya came on 4th place. Ting and Tyra were next in open class, 12 dogs attending so it wasnít easy. Anyway she became 3rd with excellent critics and Jan told us she was the only one in the show with the color that the baroness preferred and so it was in the beginning. I will never complain about her light color again, promised in written, I now had it all in of perspective. In the champion class it was only four bitches and obvious Maya didnít show all her qualities, still wearing short trousers due summer time. Otherwise, in this case we might not have the same opinion ;-) Well, she became third. So, who will be the best bitch in this hard competition? Tyra ended at the 5th place and we were so happy, it was actually 40 bitches so that is brilliant!
Finally, who is the winner? Should it be the world winner Oxo or a young Finnish bitch, Inka, Bullbenz Kooi Ushi Geri? It was really exiting, everyone was focused and then Jan raised his hand and appointed Inka as the winner of the Swedish Club Show 2008! My biggest congratulations to Virpi and Anne! You didnít take the long way for nothing! And once again I sent my congratulations to the Cadier family. Iím so impressed. You almost have won everything that's possible now, havenít you?
After all the dogs have been judged it was time for the breeding class. From us only four were there so it wasnít so much to choice ;-) Four kennels were in the ring together with each four dogs. It was such a lovely feeling to show the dogs and their great owners, and what a marvelous feeling to win it all. It was fantastic!
"Nice almost simular group. Only one of them has the lighter colour, (orange) so it was at the beginning of kooiker-breeding. "HP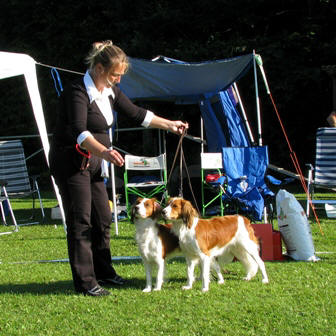 The unofficial games started. Pair class; is to show two dogs so similar to each other. There were many couples this year and similarity is something important in breeding. Ingela showed the young dear sisters Nelly and Freya, itís hard to imagine that they are only 17 months and they won!!! Great job, Ingela!
Unfortunately this day ended too quickly and in the evening we had a traditional Swedish August party eating crayfish and singing Swedish boost songs. Thank you all that have done all the preparatory work for a successful day. Thank you all for coming!
And finally, many thanks to Jan Andringa!